Scam Alert: Do not share your personal information with outside groups
**Please inform your members that they may be targets of a scam asking them to quit our union – if they receive emails, direct mail, phone calls or home visits from unknown parties seeking their personal and work information they should not respond.
Learn more at https://cseany.org/scam-alert. .
CSEA Testifies Before the State Legislature on Workforce Issues
CSEA recently provided testimony at the Joint Legislative Public Hearing on Workforce Development. The testimony, provided by Legislative Director Joshua Terry on behalf of our union, focused on proposals to improve recruitment and retention of public employees, including reforms to the Civil Service system and fixes to Tier 6.
In image at right, CSEA Legislative Director Joshua Terry, second from left, delivers testimony on behalf of our union to the Joint Legislative Public Hearing on Workforce Development.
Read our union's testimony
Watch the hearing CSEA's testimony begins at about 2 hours, 39 minutes
Learn more about issues that affect your job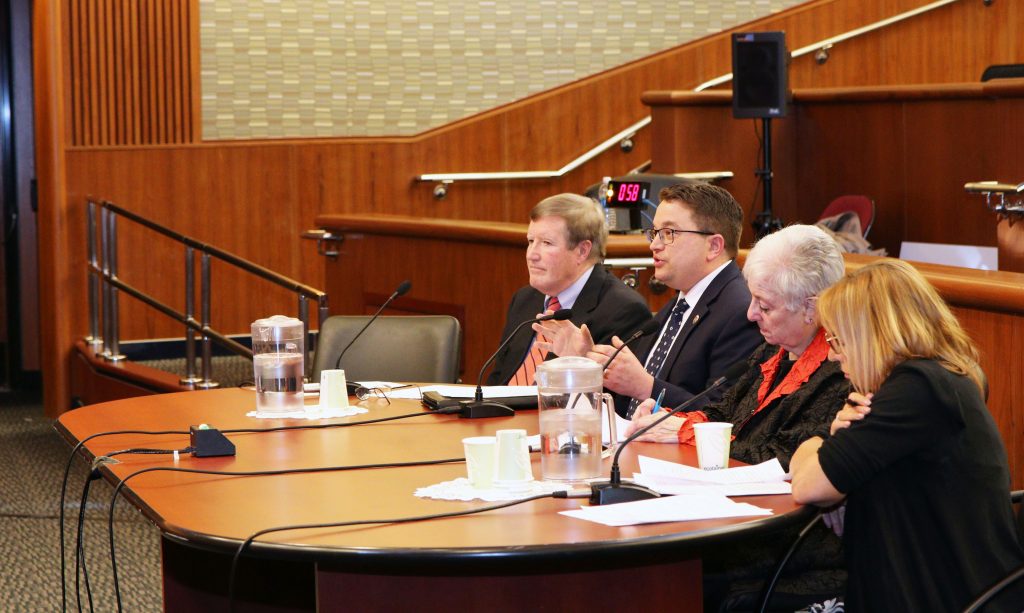 Celebrate Women's History Month
During Women's History Month, we celebrate and honor women's contributions and achievements. Women have played an important role in shaping the labor movement, including organizing workers and leading fights for fair wages, health care, safer workplaces and justice for all people.
Throughout the past two centuries of the labor movement, women have made many advancements and are playing leading roles in labor, but the struggle continues for justice and equality.
Read CSEA President Mary Sullivan's March Work Force column
Read Women's History Month: A woman's place is in her union
Our Voice Our Power: CSEA Women's Conference registration now open
Join us for our union's 2023 CSEA Women's Conference, which will be held in Saratoga Springs, NY from April 28-30.
This year's conference theme is "Our Voice Our Power," which focuses both on members gaining knowledge and developing our collective voices to gain power.
The biennial conference, organized by our union's Standing Women's Committee, is open to all CSEA members, including retirees. The conference will include numerous programs and the presentation of the Irene Carr Leadership Award.
To register for the conference, visit cseany.org/womens-conference-2023.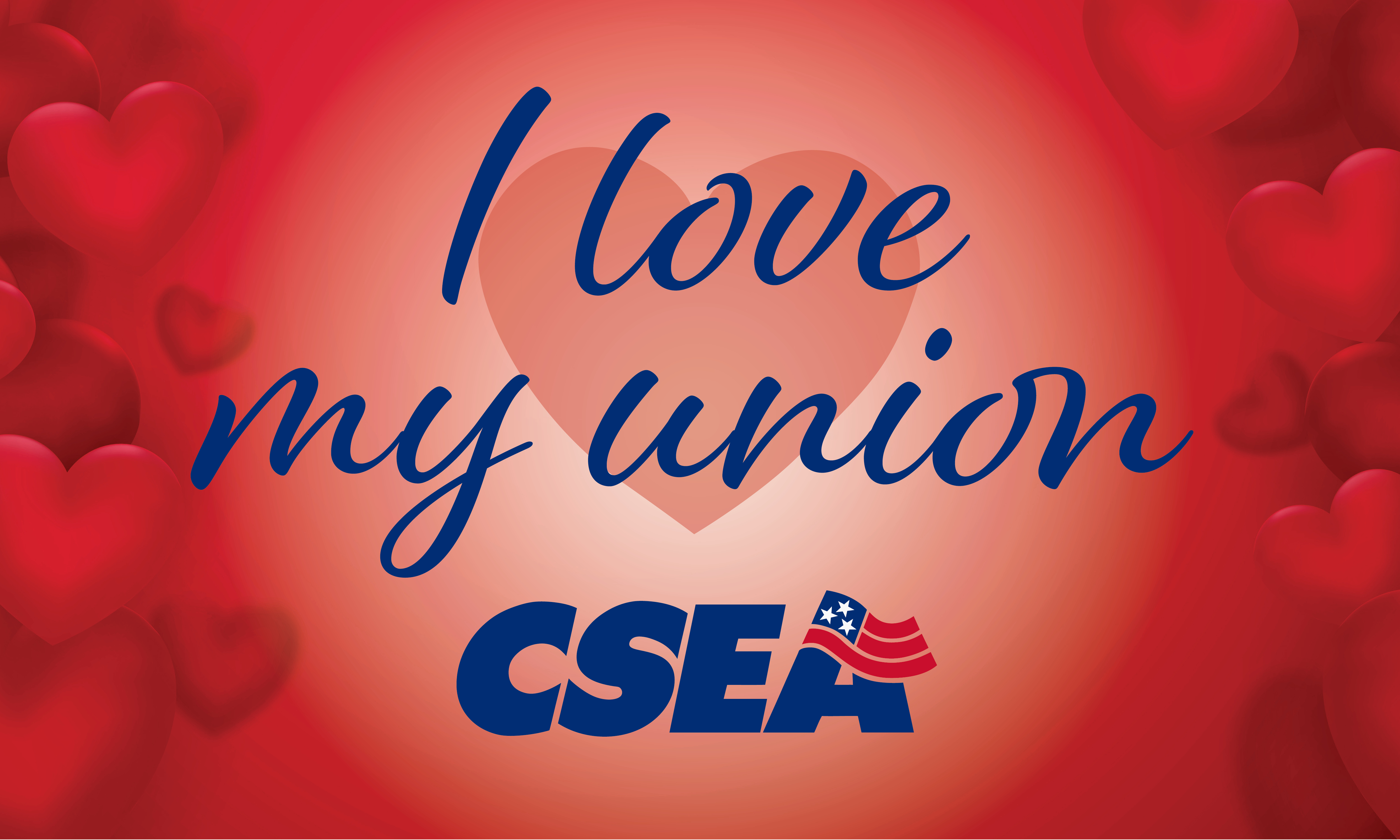 I Love My Union Contest Winners Announced
CSEA received an overwhelming response from so many members showing union love, but 10 winners have been selected and will be sent $50 gift cards in the mail.
Applications now available for CSEA scholarships
Our union is accepting applications for the Irving Flaumenbaum Memorial Scholarship, which is awarded to eligible dependents of CSEA members.
CSEA awards 18 $1,000 scholarships – three in each region – under the Irving Flaumenbaum Memorial Scholarship. Pearl Insurance and MetLife each sponsor a one-time $2,500 award. Filing for a Flaumenbaum Scholarship automatically puts an applicant in consideration for the Pearl Insurance and MetLife Scholarships.
To learn more or download a 2023 application, visit our Scholarships page.
PLEASE NOTE: Old applications could disqualify potential candidates. Please do not use applications from previous years – applications were recently revised.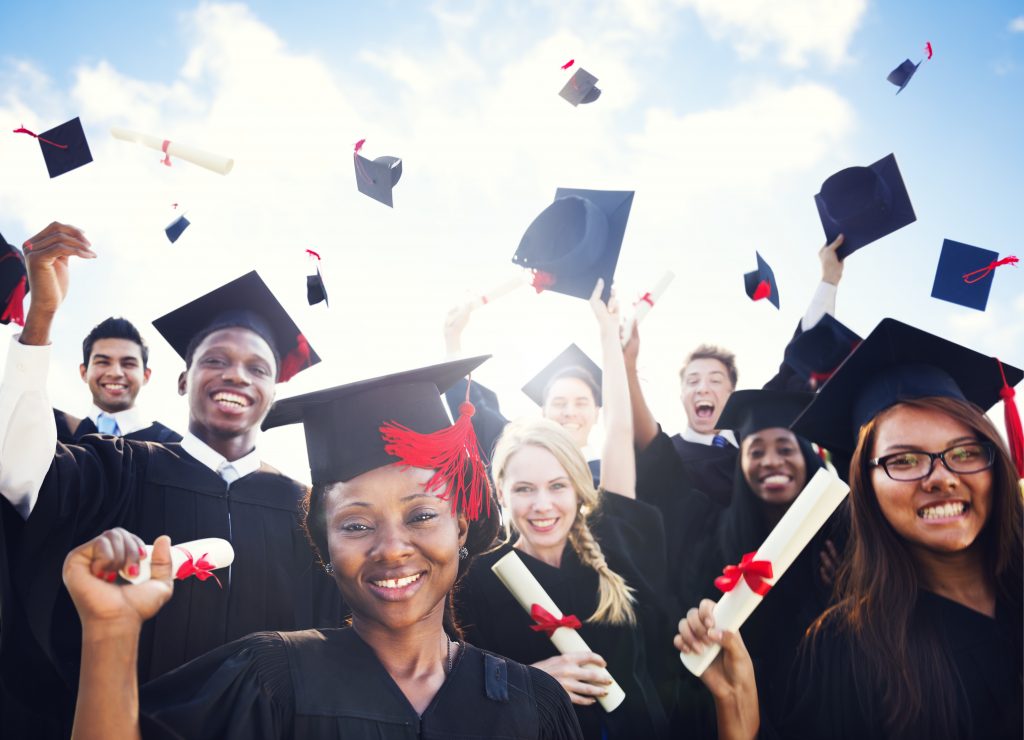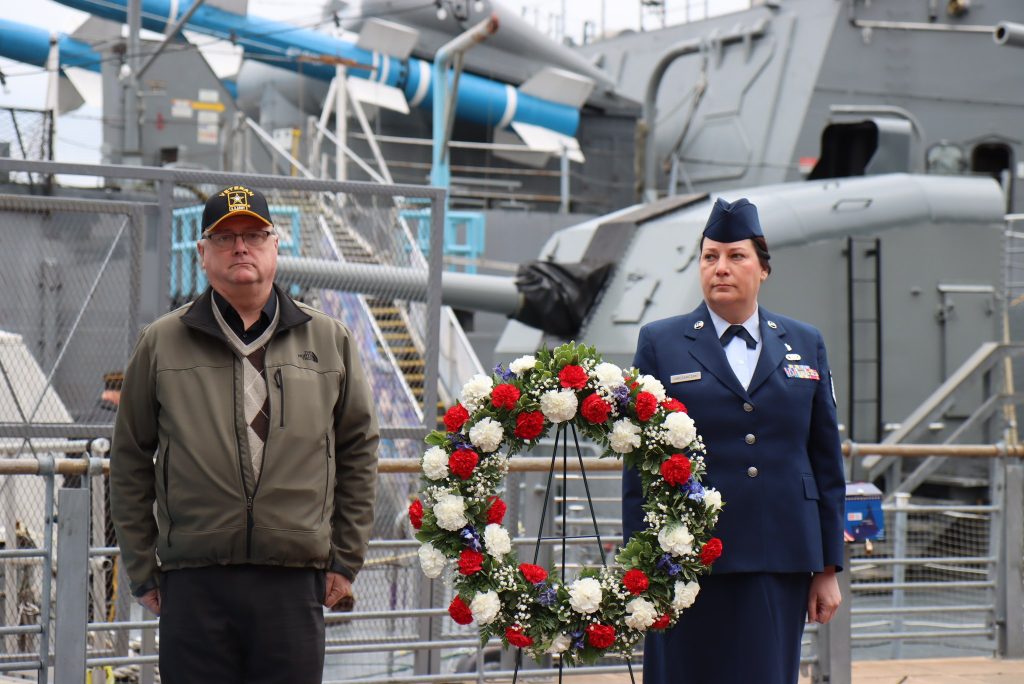 Honoring our veterans
CSEA members across the state recently participated in Veterans Day events to honor those who have served, or are serving, in uniform. To see photos from your region's events, click on the link for your region's Facebook page.
In image at left, from left to right, CSEA Western Region Executive Vice President Tim Finnigan and CSEA Statewide Veterans Committee Chair Amy Owczarczak honor veterans at a ceremony at the Buffalo and Erie County Naval and Military Park.
CSEA holds 112th Annual Delegates Meeting
During our union's 112th Annual Delegates Meeting, CSEA delegates and officers from across the state attended numerous workshops designed to help them build their leadership and union skills, conducted important union business, honored outstanding CSEA activists and heard remarks from Gov. Kathy Hochul, State Comptroller Tom DiNapoli, State Senate Minority Leader Robert Ortt, New York City Mayor Eric Adams, AFSCME International President Lee Saunders and AFSCME International Secretary-Treasurer Elissa McBride.
In image at right, CSEA President Mary E. Sullivan addresses the 112th Annual Delegates Meeting, as shown in this screenshot from the video recap of the meeting.
Watch video recap of the 112th Annual Delegates Meeting
See photos of the 112th Annual Delegates Meeting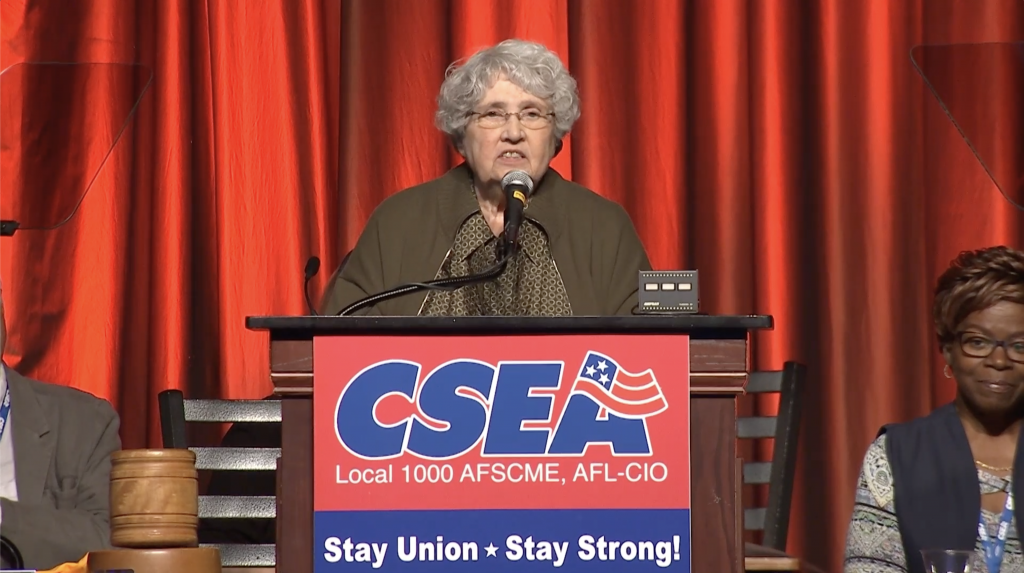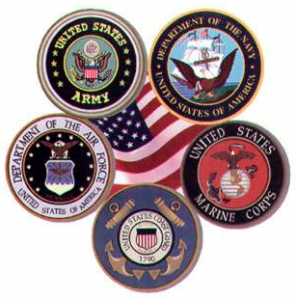 Free Medical Alert System for Veterans
Medicare Advantage (Part C), a privately offered alternative to Original Medicare (Parts A and B), has grown in popularity over the years. Despite the growing popularity of Medicare Advantage, some seniors face obstacles that prevent them from truly understanding how it works and who it benefits. Latitude USA offers a special medical alert system for veterans who order theirs through the VA. To learn more about this device and other benefits, please visit our CSEA Veterans Resources page.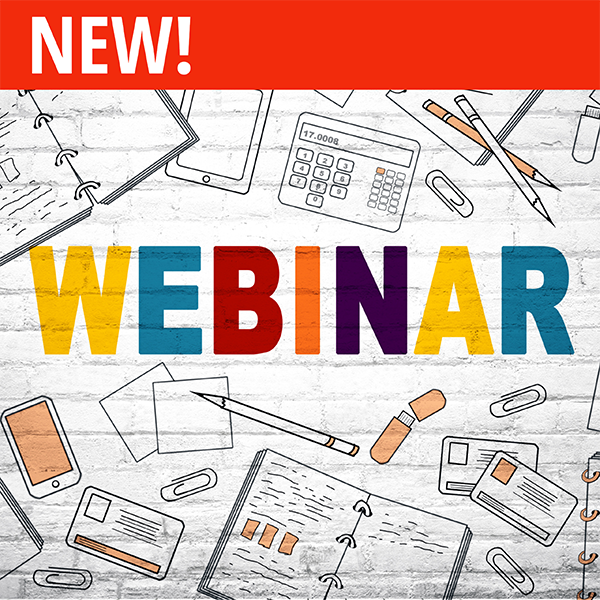 New webinar available
CSEA has a brand-new webinar available for activists interested in our governance process, How to properly write and submit proposed resolutions or amendments to CSEA's Constitution & By-Laws. It will prepare viewers to properly write proposed resolutions and/or amendments to CSEA's governing documents that, if approved, may be voted on at our Annual Delegates Meeting this October.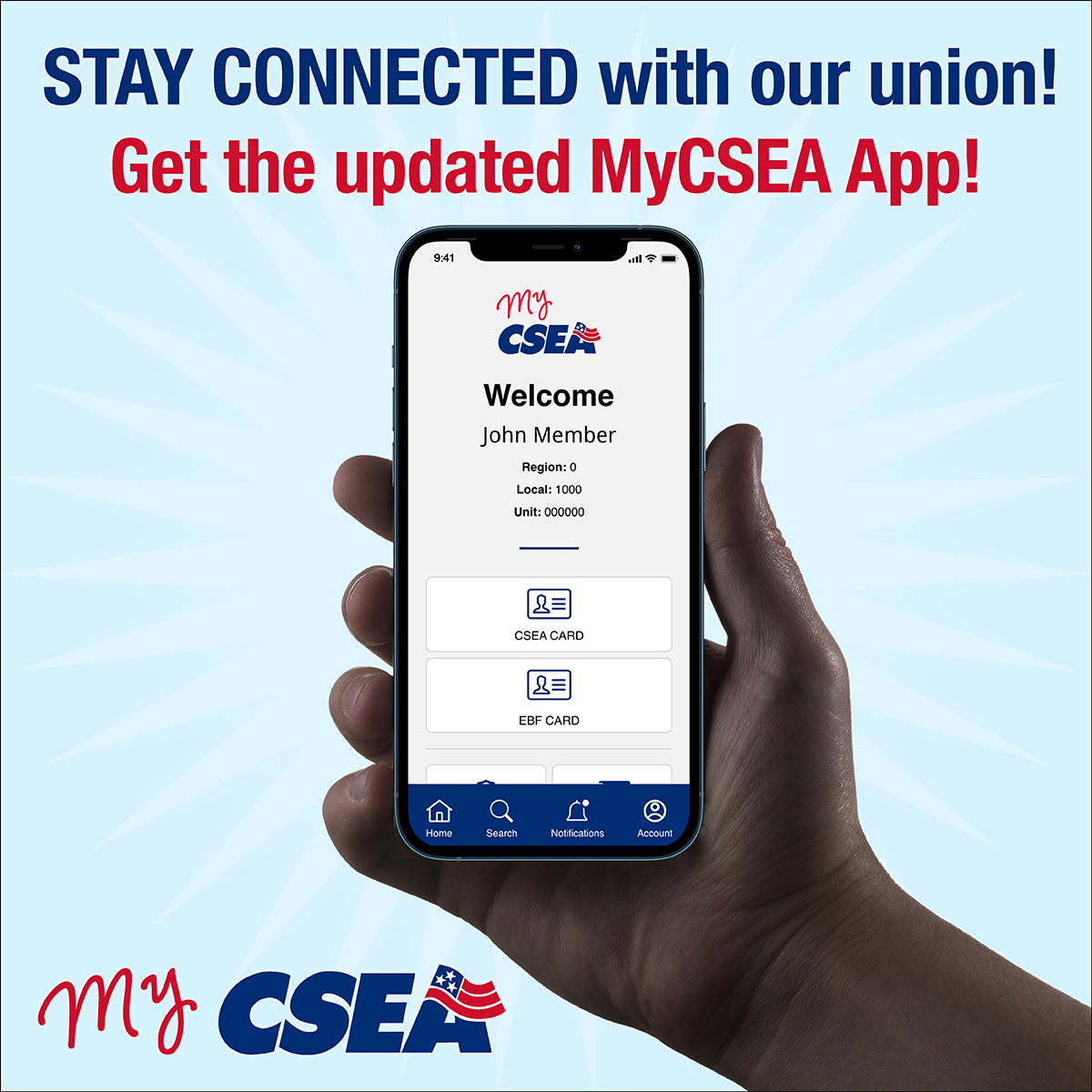 Download the Updated My CSEA smartphone app!
We've just launched a completely updated version of our popular My CSEA smartphone app, available for both Apple and Android devices, which keeps you even more connected to our union and provides important information about your representation and benefits. It's all just a touch away!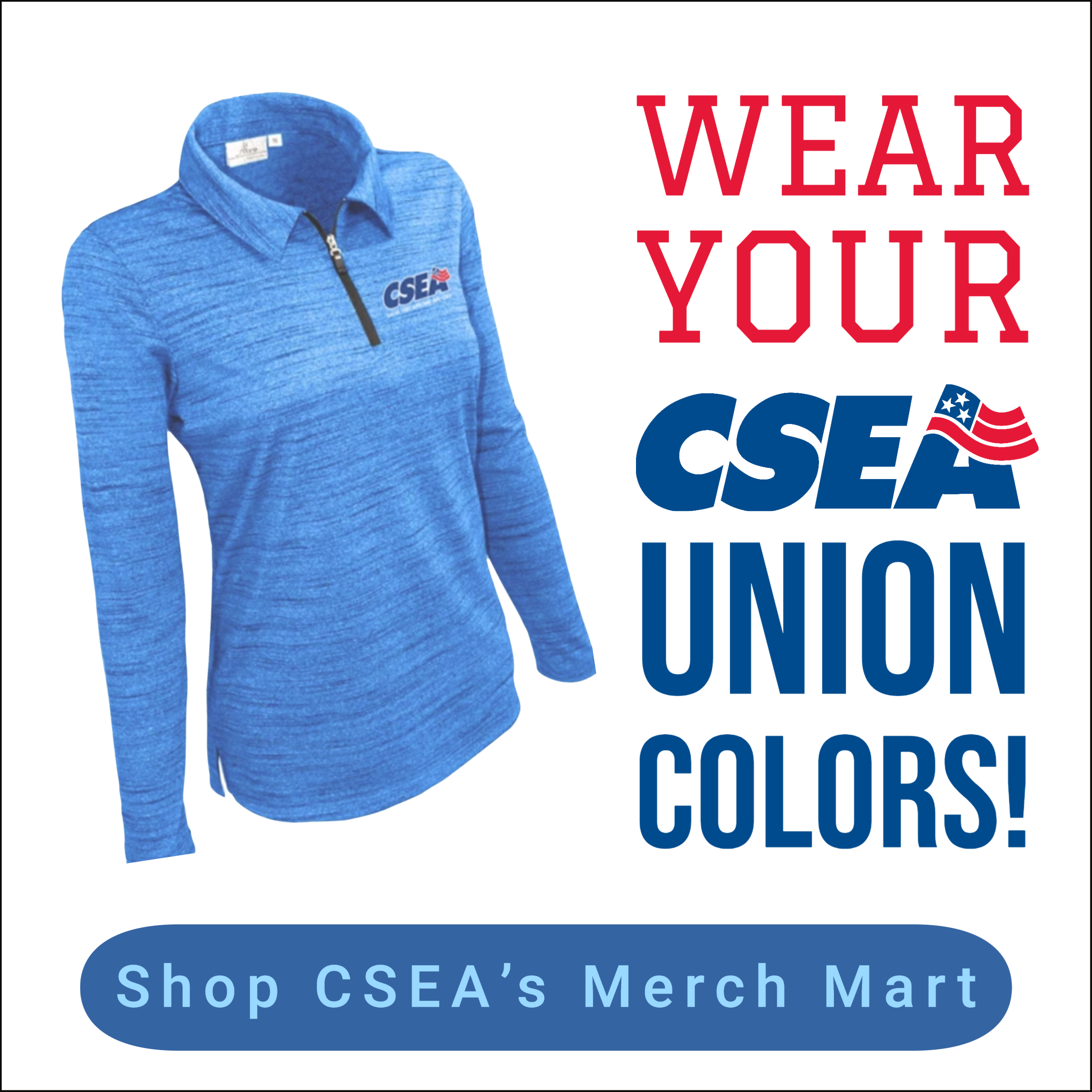 Show OFF your union pride WITH A CSEA SHIRT!
Visit CSEA's Merch Mart today to purchase shirts and hats bearing the CSEA logo which are union-made in the USA and offered through our partner Ethix Merch.
Order today and wear them with pride and show off your union colors!
Featured union news around our Regions